Enable Voice Interaction for your Products and Applications
Vivoka offers an all-in-one solution that enables any company to create its own high-performance, secure offline voice AI assistant in record time.
Experience it for free ✨
Contact us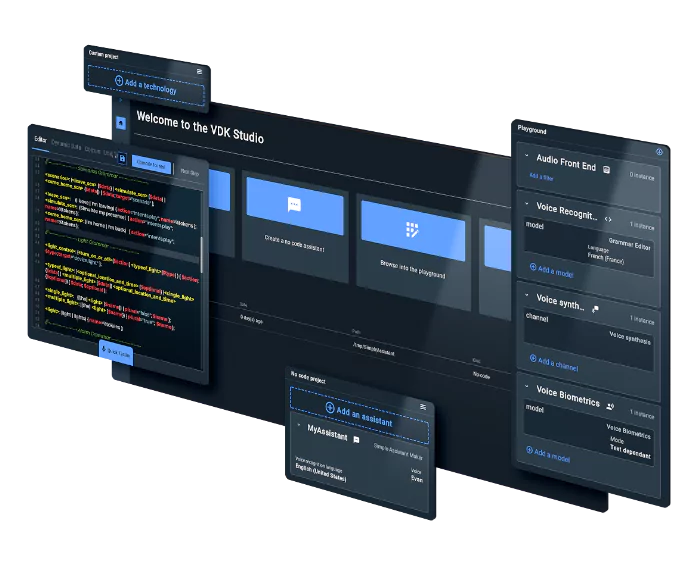 Industries we have proven business expertise in:
Smart Glasses

Supply Chain

Field Services
Medical Equipment
Aerospace
Defense
Consumer Electronics
Industry 4.0
Learn what we can build with voice technologies
Our main product, the Voice Development Kit (VDK), is a software development kit designed to develop offline voice AI technologies easily. It comes within a graphical interface, the Studio, that simplifies even more the development process.
VDK proudly showcases a complete range of technologies that covers all the features a modern voice assistant, for individuals or professionals, should possess.
With more than 40 different languages and multiple software compatibilities, VDK is the current best software to voice-enable your products and services.
For developers, by developers
Start developing your voice AI solution with the VDK
Sign up to request a free trial
Share your information to access the VDK's evaluation.
Develop and test your use cases
Design, create and try all of your features.
Export and integrate
Available for Windows, Android or Linux devices.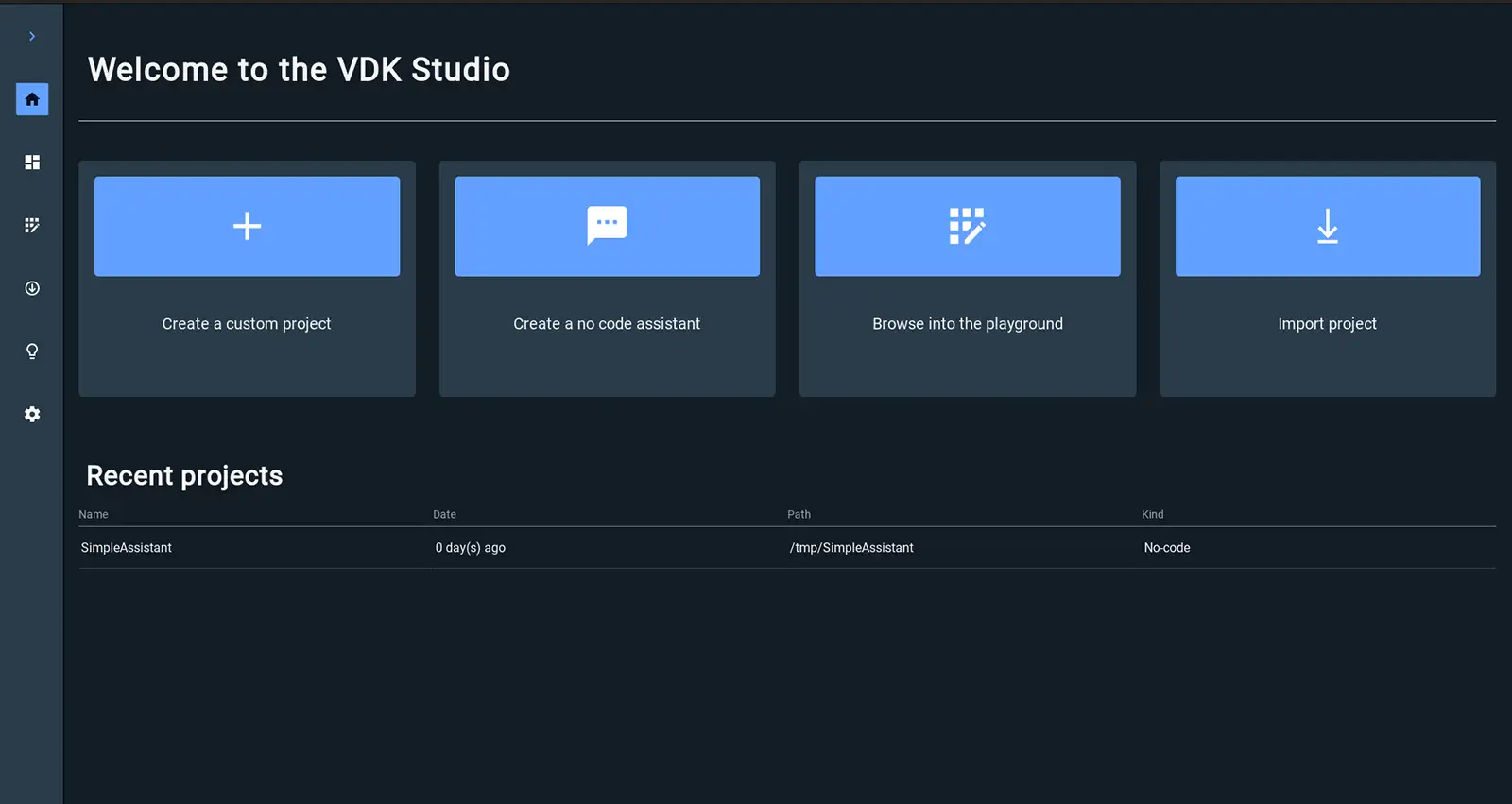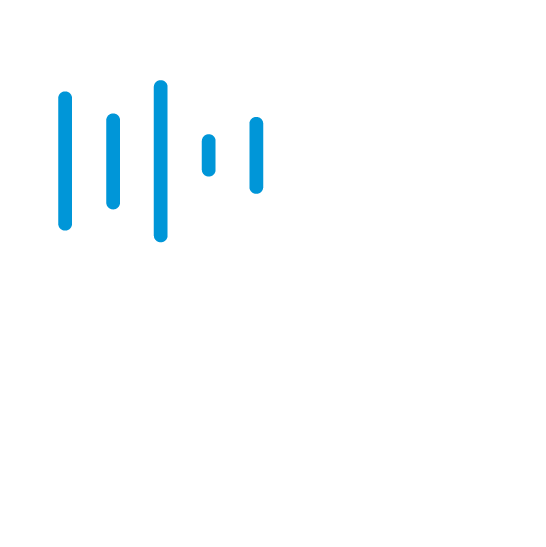 A speech recognition solution to transform human voice into text even with complex vocabulary.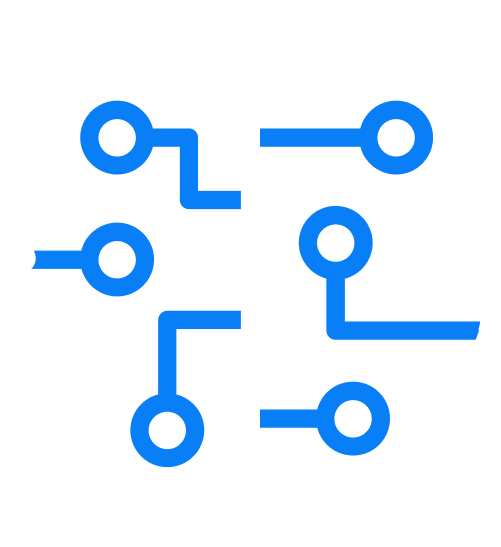 A flexible solution to comply with any voice commands, whatever the way your users wants to speak.
A solution to identify and/or authenticate users with a voice print that is made by extracting the pattern of the voice.
A synthetic voice generator to produce life-like voices able to humanize products and give audio feedbacks.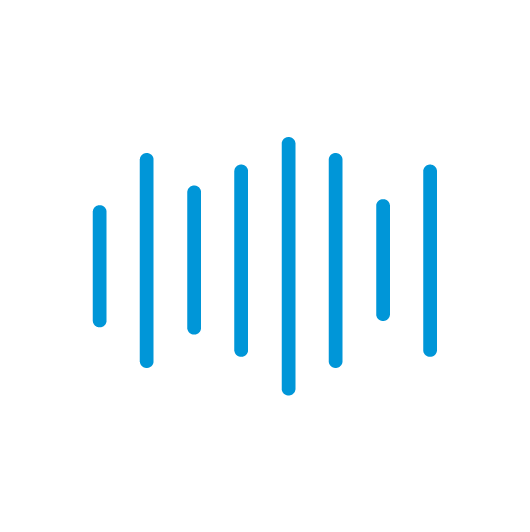 An audio enhancing solution to make sure that the sound signal from voice is crystal clear to boost recognition's accuracy.
Companies that have chosen our solution
Our customers' feedbacks regarding our solutions

"Vivoka's technologies have been integrated into our solutions dedicated to Human Factors in industry, guaranteeing performance and data confidentiality."
Guillaume Jégou
Head of the Human Factors Technology Laboratory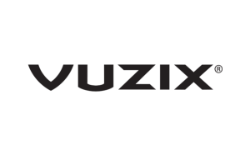 "Vivoka's solutions can run offline, on-device, to operate anywhere, anytime and with a broad language support capability which is for our products a distinct competitive advantage."
Paul Travers
Chief Executive Officer (CEO)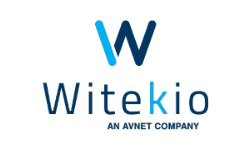 "We partnered with Vivoka on several innovative projects on embedded Linux system, and delivered, in a very short time, multi-lingual natural voice interactions fully running "at the edge" to our customers."
Cédric Vincent
VP of Technology
Adopting voice AI in your business starts here
Get in touch with our team to shift your company in the Voice First world.
Why should you choose Vivoka to support your offline voice AI project?

You will be supported by a strong R&D team
50% of our team is made up of the best engineers and researchers in the field of speech recognition whose sole purpose is to always improve the capabilities of state-of-the-art speech technologies.
You will join a lot of happy customers
We know how to adapt to the complexity of each business. A hundred or so customers around the world already trust us, all from major industries such as robotics, logistics, IOT or mobility.

You will keep complete control over your data
Confidentiality and security is preserved any time. Our technologies, from their design, will always keep our customers' data safe.

You will choose your business model
The way we integrate into your costs is totally seamless, we match your business models with transparency and flexibility.
Bringing humans closer to technology with the power of voice
Vivoka is a French leader in AI voice technologies founded in 2015. Thanks to its VDK (Voice Development Kit), Vivoka offers an all-in-one solution that enables any company to create its own high-performance, secure embedded/offline voice assistant in record time.
The company has won several innovation awards and has established leading partnerships with major players in the voice market. Vivoka has a portfolio of about 100 customers from all major industries and is pursuing its goal of bringing people closer to technology through voice.
Since its launch in November 2022, ChatGPT has become a hot topic and has taken up more and more space in the media sphere. More domains are integrating Large Language Models (LLM) as part of their...
read more